Welcome to the Year 1 Blog Page
                 Holly Team: 2020-2021
Class Teachers:

Ms O'Neill and Ms Omoboni
Teaching Assistant:

Mrs King 
Learning Support Assistants:

Ms Miller and Ms Eva

Through our topic, we will be learning about Africa's geography and looking at the amazing array of animals and people that live there. We will use African animals to help us learn about how animals are categorised into different species and the features that are both the same, and different, for groups of animals in Science.

Welcome to the Year 1 Blog Page
Holly Team: 2019 – 2020
Class Teacher:
Miss Zeina
Teaching Assistant:
Miss Makengo

Parent Curriculum Letters:
Here you will find the parent curriculum letter; this will give you an insight as to what your child will be learning each half term. 
Parent Curriculum Letter Autumn 1 AFRICA
 Parent Curriculum Letter Autumn 2 ON THE WAY HOME
 Parent Curriculum Letter SPRING 1 TOYS IN ACTION
Parent Curriculum Letter SPRING 2 HATCHAM ROYALTY
 Spring 2 –  Hatcham Royalty
This half term we are becoming royals and learning all about fairy-tales!
We will be looking closely at the Pea and The Princess.
In Maths we are learning about number bonds! Please practice these at home!

Spring 1 – Toys In Action

This half term we took a close look at toys from the past and present! We found it very interesting when making comparisons and we noticed that  some toys had just been 'updated' with a modern twist!
To further develop this, we enjoyed our trip to the Museum of Childhood where we got to see and play with toys from the past! We had lots of fun!
Autumn 2: On The Way Home

This half term we are going to go on a journey, following Claire on her way home where she meets many of her friends. But just how did she get her bad knee? Stay tuned to find out!
Autumn 1: Africa
We will be learning all about the continent of Africa looking closely at the culture, traditions, animals and tales! We are looking forward to building our knowledge and can't wait to share our learning with you all!
Article 13 of the UNICEF Rights states that every child has the right to find things out and share information. Following this, we researched and learnt about the 7 continents in the world, from biggest to small, and performed this as a song to the whole school.
Global Citizenship – Week 2 – Reuse and Recycle
Team 1 have been learning about reusing things instead of throwing them away and buying another. It is very important to try to reuse things as much as we can so that we can recycle and help the environment. To help us learn about reusing; we read the story 'Somebody Swallowed Stanley' by Sarah Roberts. Here's what happened:
Somebody Swallowed Stanley Assembly
We also made kites by reusing plastic bags! You can make them at home too!
Year 1 2018-2019 was fabulous – we wish the children the best of luck for Year 2!

Welcome to Team 1's Blog Page!
Class Teachers:

Ms Omoboni & Mrs Matthews 
Teaching Assistants:
The amazing Ms Baker & the fabulous Ms Shabina
Our topic for Spring 1 is: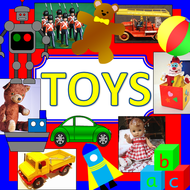 We are so excited to be looking at our favourite toys, what they are made from and what pleasure they bring and also to look at toys from the past.
For Literacy we will be reading about the adventures of Traction Man, his little hero friend Scrubbing Brush and then finding out about his adventures with at the beach and with Turbo Dog. Through the book we will continue to work on our understanding of nouns and adjectives and move on to a new word class, verbs! Using these word classes, we have already come up with some names of new heroes and villains from Traction Man's adventures in the sink such as Super Saltshaker and Slapping Spatula! We will also look at how speech bubbles are used in books to show speech and create some new adventures for Traction Man of our own.
 Click on the picture of Traction Man below to read about Traction Man's adventures through 'Books on Youtube.

Now that we've got our number bonds knowledge, we are moving onto numbers beyond 10. Once we have secured our understanding of the composition of teen numbers, we will be adding and subtracting with them. 
Click on the links below to find websites that will help your child practise writing their numbers to 20 and for fun games to help with their addition and subtraction.
It's Fireworks Day!
Today Team 1 incorporated Fireworks Day into their maths lesson. We've looked at writing numbers with the correct orientation (the right way round). Sometimes we still struggle with our numbers – particularly our 2s, 5s and 7s – so today we practised writing our numbers in the air using sparklers. Not many of us had ever held a sparkler before so it was super exciting!

Last week we were lucky to take part in A Week of Inspirational Maths! We thought about how important it is to believe in yourself and how valuable mistakes are as they help our brains to grow. We also realised that it is important to think deeply rather than trying to be the quickest. We took part in lots of investigatory activities such as sorting emojis, creating a shape track, counting on our fingers and numbering our fingers to play piano keys.
The best part was that on Thursday we had a visit from The Puzzle Company and we got to play lots of games that involved thinking, teamwork and communication. We worked wonderfully with Year 2. Look at the fun we had:
 Our Topic for this half term is:

On my way home!
We will be reading the book 'On the way home' by Jill Murphy as well as 'The Jolly Postman'. Our targets for Literacy are to learn our tricky words (as well as our phonics), track using our finger and use finger spaces between words. We'll also be thinking about adjectives to describe characters and settings.
We will be exploring our local area and finding out about how to use maps. We will learn our addresses and map a simple route from school to home. We have already contrasted our local area to the area that is local to Mr Aleman's school (he's been our visiting teacher from Spain and we're sad to see him go back but really excited to find out about his home on Gran Canaria) and learnt lots of new words to do with geography. The Mayor of London has created a map of London just for children including lots of things to do and see – just click the picture below.
For Maths we will be focusing on knowing our number bonds to 10 and thinking about adding and subtracting amounts. To support this we will be using lots of equipment, the part whole model and tens frames. Click on the pictures below to play some games that practise these skills:
For R.E. we'll be learning about our very own saint – St James the Great and we'll become 'Shell seekers' – searching for signs of him around our school and local area. For Science we will be finding out about the human body with a focus on our 5 senses. We will be creating self-portraits in Art and really studying the shape and layout of the face before learning about the primary colour system and trying really hard to create skin colour!
What a very busy term we're going to have!
 Our Topic for this Autumn half term 1 was:

Africa!
 Through our topic, we will be learning about Africa's geography and looking at the amazing array of animals and people that live there. We will use African animals to help us learn about how animals are categorised into different species and the features that are both the same, and different, for groups of animals in Science. Click on the link below for more learning about different categories of animals:
As part of our topic we will sharing these books in class and learning about sequencing, the beats (or syllables) that words have, days of the week and life in Africa:
For art we will be creating Tinga Tinga art and focusing on animal patterns. If you're interested in learning some of the BBC's Tinga Tinga tales, click the picture below:
In maths we are learning to read, write and count beyond 20 and to order amounts using mathematical language such as 'greater / more than', 'less than' and equal to. Have some fun practising maths using the links below (click on each picture):
To help us with learning to read, we follow the Read, Write Inc. programme for teaching phonics. The children use Fred the frog (he's our frog oral blending puppet) to help them sound out and spell new words.

For more information and to learn how to use the phonics sounds correctly with your child, please follow this link or look on the Literacy page for further links and advice:
Coming to a school hall near you soon….phonics workshops! Please keep looking out for letters so that you can arrange to join us and learn about how best to support your child.