MAPLE Team
Welcome to the Team 4 Blog Page
Class Teacher:
Ms Haigh
Teaching Assistant:
Ms Makengo
Welcome to Maple
Team 2020-2021
---
Please see the home learning blog for weekly homework and further updates!
Our topic for this half term is:
1001 Arabian Nights
Year 4 are reading the book '1001 Arabian Nights' and will be exploring Arabia and its changes over time. This book allows for many cross curriculum links.
English:
In English the children will have the opportunity to read stories, which are linked with Arabian culture, which will inspire their own creative writing skills. This will lead to the children writing their very own short stories based on one of the tales from 'Arabian Nights'. Throughout the term we will look at differences and similarities between European and Arabian culture. As well as, identifying key features which help create an amazing story.
RE:
Throughout the term the children will be focusing on the Islamic faith, this ties in wonderfully with our overall topic. Well will discuss how religious practices shape the lives and worship of believers, as well as, exploring the impact of faith on individuals and on the community.
Here we are acting out 'The Five Pillars of Islam'
Maths:
This term we will be focusing on multiplication and division. The children will be asked to solve problems involving multiplying and adding, including using the distributive law to multiply two digit numbers by one digit, integer scaling problems. As well as, measuring and calculating the perimeter of a rectilinear figure in centimetres and metres.
Here the children are playing a game in pairs. We chose a calculation that required us to multiply by 10 or 100. We then compare our answers and had to use our knowledge of place value to determine who had the greatest number. This person scored a point! By the end of the session, the person with the most points was the winner.
Here we are solving multiplication problems using inverse calculations.
Science:
Our focus for Science this term is electricity. We will explore common appliances that run on electricity and the children will be asked to construct simple series circuits, identifying and naming basic parts.
Here we are describing and becoming familiar with electrical circuits.
Art:
In Art we have been collaborating with Holly Graham, from Goldsmiths University. The children have been exploring legacies of Britain's colonial history through food.
Here the children are matching sweet treats to their origins:
In this picture, the children have carved into potatoes and are using these to represents crisscrossing journeys.
Last week, year 4 harvested carrots in the edible playground. We had lots of fun pulling the carrots out from under the soil.
Our topic for this half term is: Invasion!
Year 4 are reading the book 'How to train your dragon' and decided to help Ms Omoboni train her puppy sausage dog, Milo.
They wrote instructions for how to train Milo to sit, jump, fetch and wait or stay
See how they got on:
We have been looking closely at the Anglo-Saxons and Vikings discovering exciting and interesting facts. Up to now, we have looked at their daily life, laws, Kings and settlements.
Maths
In maths we have been on a journey looking at number and place value. We have been working closely with a range of concrete and pictorial representations to represent 4- digit numbers and counting in 1,000's! More recently we have focused on rounding numbers to the nearest 10, 100 and 1,000. We are now moving on to adding and subtracting numbers using columnar addition.
Science
In Science we have been focusing on sound, finding out how sound travels to and through the ear. Maple have taken part in a series of investigations, including making their own telephones to chat to their friends. Our next investigation will be looking at pitch of sound.
RE
In RE we have been focusing on Judaism and looking at all aspects of their religion. To date, we have discovered all about their sacred days and festivals; artefacts such as the Torah, Kippah, Mezuzah and Menorah; and their places of worship.
Art
Every Friday afternoon Maple have an hour to express themselves creatively. We have been focusing on brooches, which tie in nicely with our Invasion topic and so far we have designed our brooches through drawings, paint and manipulating materials. I have been greatly impressed by the enthusiasm from Maple and the outcomes of their work.
Year 4 are currently
---
Update Wednesday 15th April
I hope everyone is having a wonderful week so far! I received another wonderful email today from Zion, where she wrote up a small explanation for the Science experiment she did earlier this week! It is so great and informative so I have added the picture below! I know you all must be missing your weekly Science sessions just like I am, so here are a few websites that you can use to do some Science experiments at home! Make sure you send me your pictures and videos!
---
Update Tuesday 14th April
Good morning! We have had so much sunshine the last few days, it feels like I'm on vacation! Well kind of! I hope you are sticking with social distancing and staying 2m away from anyone if you go outside for a short walk or run! Remember that being safe at this time is very important! Sometimes it may not be possible to go outside but it can be really easy to get a daily workout in! This week, I challenge all my students to do at least 3 indoor workouts! You have to send me a picture or short video for proof! Here are a few great websites full of workouts that you will enjoy, and if you don't like these, then just find your favourite song on just dance! We all need a dance break during the day!
PE with Joe has daily workouts and currently there are over 20 available! Make sure to check him out for fun, safe, and easy ways to stay fit! Click HERE for PE with Joe!
---
Update Monday 13th April
Happy Easter to all the little bunnies in Team 4! There is a special post on Instagram from me to you, so check it out when you have a second. I hope you had a wonderful weekend and were able to enjoy the absolutely stunning weather as well! I have some chocolate easter eggs for all of you, I hope I can resist eating them until we are back at school 🙂
The readworks website has been updated with some new work for you to do! Remember that after you do the comprehension there is also a spelling section to work on. Also, sometimes when I mark your work I might ask you to revise something and resubmit it, so please make sure you check my comments carefully. If you have any questions ask your parents to email me.
I love hearing from you and getting your updates, please continue sending in your pictures as often as possible.
---
Update – Tuesday 7th April
Good morning Team 4! The library has been open for 1 week and the results have been incredible! Congratulations are in order for all the students who have been independently reading in our online library: Michai, Danica, Sophia, Chioma, Olamide, Jayda, Zion, Isaiah, David, Saad, Cyrilla and Grace! And a very special mention to Chioma who has read more than 50 articles and over 40 000 words! WOW!
Our 10000 words club now includes: Elaine, Chioma, Olamide, Zion, Amelia, Melissa, and Cyrilla!
Keep reading everyone, it is great to see how well you are progressing!
---
Update – Monday 6th April
Good morning Team 4! I hope you enjoyed this sunny weekend and were able to go outside for a short and safe walk! Wishing you all a beautiful week ahead! It has been so wonderful receiving pictures and emails from your families to see what you have all been up to! Below are a few updates from our friends!
---
Update – Monday 30th March
Hello everyone! Thank you so much to all the students who have been working so hard on Read works, the joining instructions are still posted below. The website has again been updated, so check out some fun new pieces to read.
The Readworks website includes individual assignments that I check and grade on a regular basis. I want to take a moment to celebrate a few students who have reached a milestone with their reading! The following students have read 10 000 words!!! WOW! Well done to Chioma, Olamide, Zion and Melissa! Looking forward to adding more young readers to this list!
Also, I would like to celebrate Sophia, who is the first person to access the new library available on Readworks. She read a piece called 'Quinceaneras' and commented, "I really liked that they described what a Quinceaneras was!"
Remember that during this time there are lots of great activities that we can do besides studying, on the school Instagram I have been posting links to daily workouts, art sessions, and reading that you can check out! This is a great time to get involved in cooking, baking, painting, dancing, arts and crafts as well. Anything you create or do, I would love to see it! Drop me an email at bmehta13.209@lgflmail.org to show me all the fun stuff you are doing!
Miss you all!
---
Update – Monday 23 March
Hi Maple class! As school will be closed for a few weeks I have lots of ideas of fun things you can be doing at home, and a little bit of learning as well. ReadWorks is a great website that I will be updating every Monday to help you with your reading and grammar. Here are the instructions below!
How to get students to their assignments
1. Have students go to www.readworks.org/student
2. Students enter class code K25F2M
3. Tell your students that their default password is 1234
Note: Students can change their passwords when they log in, and you can change student passwords on this page.
Remember to spend 10 minutes a day on the PIXL times table app and spend the rest of the time having some fun! I have some great links on the school Instagram that links you to live daily activities. Even if you don't have an Instagram account you can check out what I'm posting by opening this webpage on a computer. www.instagram.com/stjameshatcham.
If you have any trouble with any of your online learning, drop me a quick email bmehta13.209@lgflmail.org.
---
Term 4 – February 2020
Our topic this half term is the Tudors! The Tudor family were the rulers of the House of England and Wales between 1485 and 1603. They came to power when Henry VII became king after his defeat of Richard III at the Battle of Bosworth Field in 1485. The Tudor period really took off under the rule of Henry VII's son, Henry VIII. We are especially excited to learn about King Henry VIII and his six wives! This historical topic will allow us to expand our knowledge and understanding and take our writing to the next level. Through the use of similes, metaphors, personification, and alliteration, we will be writing love letters.
To learn more about King Henry VIII and play some fun interactive games, click HERE and HERE!
Whilst we are writing our love letters, we will have a special grammatical focus on fronted adverbials. This can sometimes be tricky and so it is important to practice as much as possible. A great online resource for practicing is on the BBC Bitesize website and can be found HERE! Once you feel confident, you can also refer to this word mat below to help you with your writing!
In Maths we are now entering the exciting world of fractions. After learning about our key terms, we will be looking at equivalent fractions. From there, we will spend quite a bit of time reviewing number lines and ensuring we are able to count in fractions, even if they have different denominators. Finally, we will be finishing off with being able to add and subtract fractions where the denominators are the same.
Fractions can be tricky, luckily there are lots of resources available to help us strengthen our knowledge in this area. Check out this website, which is full of interactive games and has many different levels of play. Also, for further support, check out a few of the posters below that we will be referring to in class!
In Science we are learning about dyeing, however, we are working scientifically and linking it back to the Tudors. We are purposely only looking to extract dye from natural products, such as beetroot and turmeric. We will then be experimenting with our extracts and seeing how they react to other substances. At the end of the half term, we are hoping to tie-die some clothes using these natural ingredients and seeing how they turn out, hopefully, in a similar fashion as to how it would have been done in the Tudor times.
In RE we are learning about what is The Bible's 'Big Story' and what does it reveal about having faith in God. We will be looking at several different areas of the Bible, in specific we will be studying: How the Bible came into being, how we got The Bible we use today, what The Bible teaches about faith, reflection of what faith means to us. We will be uploading and sharing pictures of our discussions and lessons throughout this learning journey.
For more information about what we are learning please see our curriculum letter below.
Spring 2 Curriculum Letter Team 4 Tudors
---
Term 3 – January 2020
The third half term brings forth cold weather as we get shipwrecked!!! We will be studying the journey of Ernest Shackleton and his brave crew as they attempted to be the first to cross the Antarctic. Sir Ernest Henry Shackleton is best known as a polar explorer who was associated with four expeditions exploring Antarctica, particularly the Trans-Antarctic (Endurance) Expedition (1914–16) that he led, which, although unsuccessful, became famous as a tale of remarkable perseverance and survival. We will be learning all about the Antarctic and all the details of this remarkable adventure.
As there is so much information about this topic, a great place to get started is THIS website, which includes key info, his biography, and fun facts! Let us know your favourites and we will add them to our working wall!
For more information about what we are learning please see our curriculum letter below.
Spring 1 Curriculum Letter Team 4 SubZero
---
Term 2 – November 2019
In our second half term we are learning about Arabian Nights! This immersive topic really allows us to delve deep into the mystical and magical kingdom of Baghdad. As we read the book 1001 Arabian Nights in class, we are taken on an adventure by Shahrazad and her determination to stay alive by telling the Sultan a wonderful story every night. In Maths, we will be focusing specifically on multiplication and division, looking at many different methods to solve the work. In Science, we will be studying Electricity. In Religious Education we will be studying Islam, which goes hand in hand with our topic. As previously mentioned, we will be reading a book called "1001 Arabian Nights", this will be accompanied by another text called, "My Sister Shahrazed." There is a wealth of information that can be read about, heard about and watched with this wonderful genre of short stories. Check out the link below:
About the Author – Robert Leeson
About the Illustrator – Christina Balit
The students were introduced to the topic with an 'Arabic Experience'! They walked into a magical and transformed kingdom (classroom), with incense, candles, drapery and Arabic scarves, pillow seating, the aroma of an Arabic feast, the musical sounds of a faraway kingdom….. and in the sweet smells and scents we sat and listened to our first story… "AliBaba and the 40 thieves".
Religious studies – Islam
Islam is an Abrahamic, monotheistic religion teaching that there is only one God, and that Muhammad is a messenger of God. It is the world's second-largest religion with over 1.9 billion followers or 24.4% of the world's population, commonly known as Muslims. The children have been learning so much about this interesting and ancient religion that they put together short videos for you to learn more. The videos required a lot of preparation through research, scripts, interviews, rehearsals and finally, putting together the video. We hope you enjoy them.
Please click below to see our curriculum letter for the second Autumn term
Curriculum letter Team 4 – Arabian Nights
---
Term 1 – September 2019
Welcome to the first half term in Year 4 where we will be learning about the Vicious Vikings! We are so excited to take this adventure with out learning. Also, in Maths we will be focusing on place value, addition and subtraction. In Science, we will be studying Sound. And in Religious Education we will be studying Sikhism. In class we will be reading a book called 'How to train your dragon!' You can read more about this book, the author, the movie and check out some fun facts here.
Over the summer the students were encouraged to create their own dragons, to link with our topic of Vikings. Check out some of our favourites below…
Our class work involved a lot of research about the Vikings and the kids learned how to take detailed point form notes. These notes were later used to help them with their Historical Viking Reports which they had to write in chronological order. In the pictures below, you can see the hard work and dedication of the students, alongside the vast amount of knowledge they gathered in these lessons.
Religious studies – Sikh Education
Sikhism is a monotheistic religion founded in the fifteenth century upon the teachings of Guru Nanak and ten succeeding Gurus (the last one being the sacred text Guru Granth Sahib), emphasising universal, selfless love and brotherhood. "Only those who selflessly love everyone, they alone shall find God". We were fortunate enough to be blessed with beautiful weather as we learned more about this interesting topic and the 5 K's: Kanga, Kirpan, Kachera, Kara and Kesh. You can learn more about the 5 K's here –> The 5 K's
One of our biggest and most exciting projects this half term was creating our own mini version of 'How to train your dragon' books. The children worked diligently over several days to create their masterpieces! Future Viking warriors will be able to use these helpful books for generations to come! Check out the gallery below!
In Science we have been learning about sound! There were so many interesting facts, vocabulary words, and key ideas that we were able to learn about. As a class experiment to understand vibrations, and how sounds can be low and high, we decided to make wind pipes. The experiment was a lot of fun and we ended up clearly being able to understand how sound works through vibrations. Some of our projects are featured below. Also, if you would like to learn more about sound and watch some of the amazing videos that helped us with our learning, you can check out this link! –> Learn about sound
We ended this half term with a new and important focus on Global Citizenship and followed through with activities all week. Global citizenship week relates to the sustainable development goals set by the United Nations. The 2030 Agenda for Sustainable Development, adopted by all United Nations Member States in 2015, provides a shared blueprint for peace and prosperity for people and the planet, now and into the future. At its heart are the 17 Sustainable Development Goals (SDGs), which are an urgent call for action by all countries – developed and developing – in a global partnership. They recognise that ending poverty and other deprivations must go hand-in-hand with strategies that improve health and education, reduce inequality, and spur economic growth – all while tackling climate change and working to preserve our oceans and forests.
Our school was focused on goal number 2 – ZERO HUNGER.
Hunger is on the rise again globally and under nutrition continues to affect millions of children. Public investment in agriculture globally is declining, small scale food producers and family farmers require much greater support and increased investment in infrastructure and technology for sustainable agriculture is urgently needed.
An estimated 821 million people – approximately 1 in 9 people in the world – were undernourished in 2017, up from 784 million in 2015. This represents a worrying rise in world hunger for a third consecutive year after a prolonged decline. Africa remains the continent with the highest prevalence of undernourishment, affecting one fifth of its population (more than 256 million people). Consistent with the continued growth in undernourishment, 770 million people faced severe food insecurity in 2017.
Stunting has been decreasing in nearly every region since 2000. Still, more than 1 in 5 children under 5 years of age (149 million) were stunted in 2018. Globally, 49 million children under 5 were affected by wasting and another 40 million were overweight in 2018.
Strengthening the resilience and adaptive capacity of small-scale and family farmers, whose productivity is systematically lower than all other food producers, is critical to reversing the trend of the rise in hunger. The share of small-scale food producers in terms of all food producers in countries in Africa, Asia and Latin America ranges from 40 to 85 per cent, compared with fewer than 10 per cent in Europe.
Government spending on agriculture compared to agriculture's contribution to the total economy has declined by 37 per cent; the ratio fell from 0.42 in 2001 to 0.26 worldwide in 2017. In addition, aid to agriculture in developing countries fell from nearly 25 per cent of all donors' sector-allowable aid in the mid-1980s to only 5 per cent in 2017, representing a decrease of $12.6 billion.
A continuous downward trend has been observed in export subsidy outlays reported to the World Trade Organisation (WTO). The total outlays fell from close to $500 million in 2010 to around $120 million in 2016. This reduction in export subsidies by Governments is leading to lower distortions in agricultural markets.
Year 4 studied the impact of food travelling across the world, the importance of buying locally and how we can personally improve the goal towards zero waste. We specifically studied the ingredients of Green Thai Curry. We went to our local Sainsbury to better understand how we shop, we looked at the recipe and what it entails. Finally we got to eat green Thai curry with jasmine rice! It was a truly enriching and delicious experience.
Please click below to see our curriculum letter for the Autumn term
Curriculum Letter Team 4 – Vikings
---
Team 4 2018-2019
Spring Term – our topic is: Sub-zero!
We will be travelling back in time to 1914, a time of great exploration and ambition. During our literacy lessons we will be learning all about journalistic writing and eventually writing a newspaper report about Ernest Shackleton's courageous voyage to Antarctica.

During our Destination Reader sessions, we will be delving into Black History and following the incredible tale of Matthew Henson, who was almost written out of history just because of the colour of his skin. . . .
During our art sessions we have been using clay to mould and shape polar animals. Once painted, they will be displayed in the school lunch hall – be sure to come and check them out!
Team 4 Curriculum Letter – Spring Term 2019
Curriculum Letter Team 4 Arabian Nights 2018
Autumn Term – our topic is : Invasion!
Our learning for this next half term is based on the many trials and tribulations of England during the first century AD. This will include lots of gory history involving invasions by the Romans, Celts, the Vikings and leading to the settlement of the Anglo-Saxons.
To find out more about this turbulent period of time, click on the Roman below: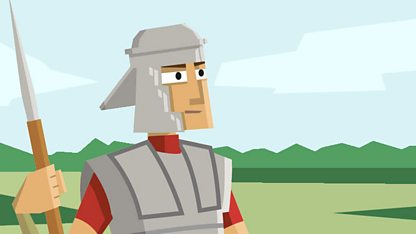 For our Literacy we will be examining the classic Norse text Beowulf (multiple versions) and the modern book 'How to train your dragon' by Cressida Cowell. We are excited to delve into the world of Norse mythology and the life of Hiccup the Dragon. To investigate these brilliant texts further, have fun by clicking the images below.
In Numeracy we will be really focusing on place value and investigating different ways in which we can partition numbers.