Welcome to Team Five's Blog
2020-2021
Class Teachers:
Miss Barnes
Teaching Assistant:
Miss Motion
Spring 1 – Dark Tales
Our third topic this year is called Dark Tales!
English
We will be reading a collection of tales that have a darkness, or mystery to them. We will also be learning and exploring the classic narrative poem, 'The Highwayman'. Our stories will focus on suspense and the creation of atmosphere rather than any 'horror' elements. We will be focusing our writing on using description to show setting, emotion and character rather than the more immature telling of such. We will revise speech punctuation and how to not over-use speech in order to advance the action. We will focus on reading skills that look at how an author uses language and punctuation to create an image or effect and imagining a picture of what is being read in your head (visualisation). You can support your child by asking them to describe their visual image at home when listening to them read.
Maths
We will begin this term by continuing to finsh our area and perimeter topic. We thoroughly covered perimeter before the end of term, so now we can solidly focus on area for the next two weeks. After that, we will move onto our next topic, being multiplication and division. We will be using formal multiplication and division methods to multiply and divide by large numbers this term which will support our fluency, reasoning and problem solving skills for this area of mathematics.
Topic
We will be looking at how time and time zones are used across the world – this will incorporate both Geography and Maths. We will have an overview of how time is measured, from which points and methods of recording time throughout the ages. Additionally, we will also look at a brief history of time which will enable the children to place their prior learning of historical periods into context others.
Science
In Science we will look at the Solar System and the planets and stars within it, and the relationships between them. We will link this to understanding of time concepts such as day, night, month, year etc. (thus linking with our learning about clocks and time).
R.E.
This term in RE we are learning about life and death. We will look into what is meant by bereavement, and how people grieve in different ways. In terms of Christianity, we will look into what Christians believe happens after death through the beliefs of heaven and hell. We will also look at what a traditional Christian funeral looks like, before comparing to different religions.
Art
In art and design this term we will be using pastels to recreate images in 'Little mouse's big book of fears', and 'The Highwayman' poem, which has close links to our topic of Dark Tales. Later on in the term we will be designing and making our own 'zombie cupcakes', which will consist of careful and creative planning.
Global Scholars
Mrs Fabian will continue to take the Global Scholars lessons this term, which the children are thoroughly enjoying. There will be continuous interaction with other schools across the world, with key I.C.T skills being taught alongside.
Autumn 2 – World War 2
We are now moving onto our second topic, being World War 2. This is such a fascinating topic and the children are already very intrigued! It is so important for the children of our generation to learn about the past and the key events that have shaped the world today, which makes me very excited to teach this topic in Autumn 2.
Topic
Our Topic learning is focused on the key events of the war, the countries involved and the effect that the war had on Britain itself. We will be looking at The Blitz – a key bombing campaign that Germany held against Britain, and how this impacted the children and families in London. This will bring us to focusing on evacuees and the perspective that these children had as they lived through the war. We will end our topic by briefly looking at different types of propaganda, and then finally how science and technology impacted the success of the allies in winning World War 2.
English
The genre that we will be focusing on this term in English is diary entries. With our topic being World War 2, the outcome of this term will be to write several diary entries in the role of different children in the war. For the first three weeks, we will be reading and watching Goodnight Mister Tom, a classic film that shows the perspective of a young boy as an evacuee who lived through World War 2. After that, we will move onto the perspective of a German child during the war, with the stimulus being a picture book called Rose Blanche. Towards the end of the term, we will finally focus on the perspective of a Jewish child in the war, by reading brief extracts of The Diary of Anne Frank.
Maths
After focusing on place value and addition and subtraction last term, Team 5 will now be moving on to the topic of multiplication and division and then perimeter and area towards the end of the term. We will continue to work closely with a range of manipulatives, as I found that the children benefitted from concrete interaction in the last term. I also intend to encourage the children further to use key vocabulary to reason and solve problems accordingly by engaging with more word problems.
Science
In Science we are moving onto our next module, being properties and changes of materials. This term consists of many different practicals, which I am sure the children will enjoy. We will be looking at how to classify and group a range of different materials according to their properties, before moving onto reversible and non-reversible changes in materials. To end the term will we look at how we can separate different materials that have been mixed together, and the concept of dissolving.
R.E
We are learning about a very important topic in R.E which links well with our overall theme of World War 2 – Remembrance. The children will be learning about why it is important to remember the war, in addition to other key events that have shaped the world today. There will be a strong focus on Remembrance Day, and how the poppy signifies those who served us during the war. After this, we will move onto exploring how peace is a key value of the Christmas season by focusing on Bible extracts.
Art
Our art topic also links very well with our World War 2 theme, with our artist focus being Henry Moore, an artist who drew and constructed images of those who took shelter in the London Underground stations during The Blitz. We will be looking at his pieces of art to gain a deeper insight into what it was like to live during the war, and towards the end of term the children will be constructing their own clay models.
P.S.H.E.
This term our focus in PSHE is 'my mind' which includes looking at how the children can manage and self-regulate their own actions and behaviour. I think that this is a great topic for our class, with there being lots of role play activities planned for the children to take part in, which should support them in continuing to grow and develop into older, more responsible children.
Global Scholars
Mrs Fabian will continue to take the Global Scholars lessons this term, which the children are thoroughly enjoying. There will be continuous interaction with other schools across the world, with key I.C.T skills being taught alongside.
Autumn 1 – What makes me, me?
We are beginning the academic year with a very important topic – ourselves! 'What makes me, me?' is a great introduction to Year 5 in terms of understanding why and how to celebrate our own differences.
Topic
As part of our Topic learning, we have been looking at our heritage and where our ancestors come from. More recently, we have focused on family tree's and next week we will be making our own. We have also touched upon genetics to consider what inherited and non-inherited characteristics we have!
Are your ears attached or detached? Maybe you can roll your tongue, have dimples or have a widow's peak? Then maybe it's down to your family genes – ask Team 5 if you would like further information. To reflect on our understanding of self, we will be making some philosophical enquiry and thinking really deeply. You, too, can explore the philosophical world here (click picture):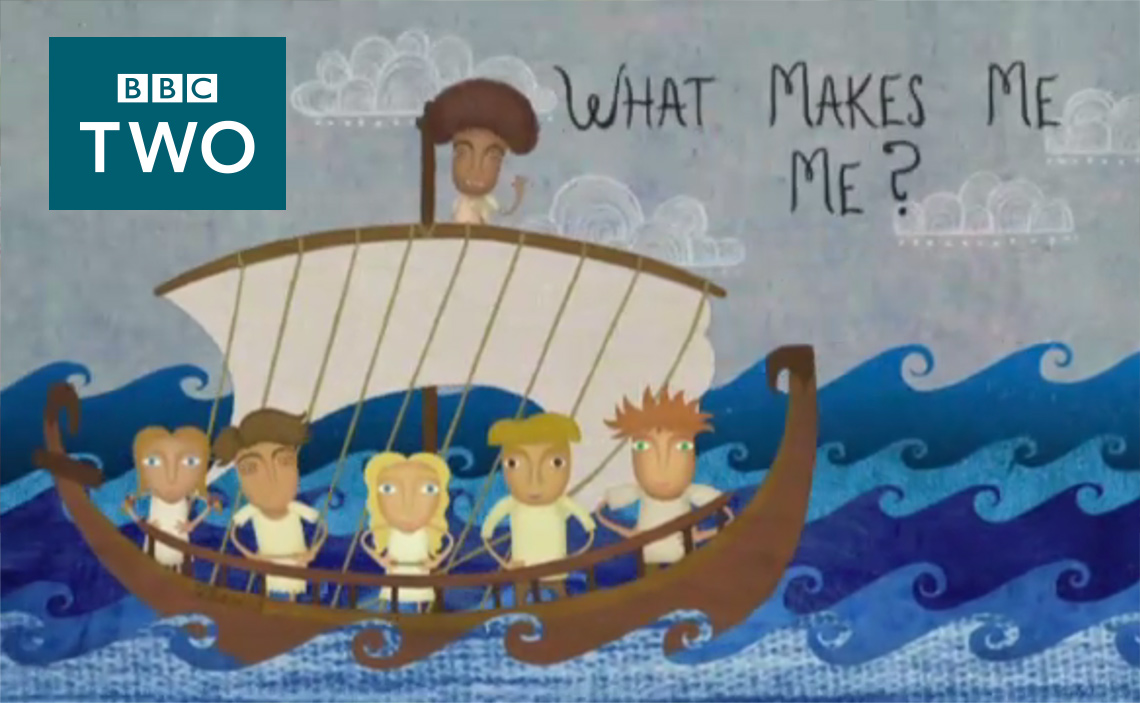 R.E
In R.E, we are looking at 'Faith In Lewisham'. We have already started to examine the different faiths that are practiced in our borough of Lewisham and how the community works together with its different backgrounds and beliefs. The children have explored the meaning of diversity, and have demonstrated tolerance of others' beliefs by teaching their peers about the religious make up of the Lewisham borough.
English
In English, we are examining the genre of book reviews. We are currently reading the hilarious book 'There's a Boy in the Girls' Bathroom' by Louis Sachar – which the children are loving – and we will be writing our own book review on this in the upcoming weeks. In the meantime, we have been writing in role of the main characters through emails and letters. Within this, we have been focusing on key grammar features, including using expanded noun phrases, apostrophes for possession and contraction, and distinguishing between key homophones.
Drama has also tied in well with our English learning – we have recreated many scenes of 'There's A Boy In The Girls' Bathroom' – see below for some fun action shots!
Art
In Art, the children have dived into learning about a key artist – Andy Warhol. So far the children are really enjoying learning about Pop Art as a genre of art and are looking forward to making their own digital images next week. More recently, we have made our own colour wheel by mixing a range of primary, secondary and tertiary colours – check out this BBC Bitesize link to learn more!
https://www.bbc.co.uk/bitesize/guides/z3bqycw/revision/2
ICT
Our ICT ties in well with our Art learning, with the children taking professional portrait images for their Pop Art project. Next week they will be editing these images on a special application to produce a Pop Art style image!
Maths
Our maths will take us on an incredible journey through our brain as we work with number and place value. We have been working closely with a range of concrete and pictorial representations to represent numbers up to 1 million in different ways! More recently we have focused on rounding numbers to the nearest 10, 100, 1,000 and 100,000. We are now moving on to adding and subtracting numbers using columnar addition – I must say I am extremely pleased with the progress the children have made already.
Science
In Science, we are learning about the human body – with a focus on the skeleton, digestion and healthy eating. We began our learning about the bones in our body and what makes a successful supporting structure. Since then we have moved onto the digestive system, and attempted to recreate our own model using tights, biscuits, orange juice and water. I must say it did get messy (see pictures below).
We are now conducting our first investigation – to examine the effects of tooth decay using different liquids (vinegar, milk, water and Coca Cola) and eggs to represent our teeth. A range of predictions have been made, including that Coca Cola will have the most damaging effect on the teeth due to the high sugar content. We are observing the effects on the eggs each day and will update you on our results! See below for pictures of us preparing for the investigation…
PSHE
We are learning about a very important topic in PSHE – kindness. Focusing on different acts of kindness, motivations for being kind and self-esteem this term, we hope that this will continue to promote an inclusive and supportive environment both in and outside of school.
---